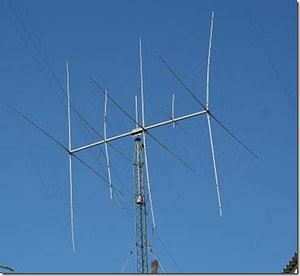 In this series on Club Program ideas, I'm providing possible programs for clubs to use in their meetings. You can find a full explanation of the approach in Club Programs – The Series.
Today's program idea: Building a Quad Antenna.
Quad antennas are radically different then Yagi antennas. While there is debate over the effectiveness of one versus another, quad antennas offer a different challenge than a beam in terms of construction and mounting the antenna to the mast on a tower.
The program would show the various materials used to build the quad and how to mount it to a mast:
Materials for the elements
Wire used and support to the elements
Feeding the bands — single or multiple antenna feeds
Impedance matching
Mounting the antenna to the mast — the three dimensions of a Quad.
Of course, good pictures on the construction and the mounting would make a world of difference to the program effectiveness.
Quad antennas aren't for every location (for example, the ice storms in the Midwest), but offers great performance with a different setup than standard Yagi antennas.
Scot, K9JY