If you're like most ham radio operators who contest, you have a ham radio logging program that you use as well as WriteLog. And, if you're like most ham radio operators who contest, you'd prefer to keep your DXCC statistics, QSL tracking, and log in one program – the logging program. The trick, of course, is exporting your ham radio contest log from WriteLog over to your logging program. Almost all logging programs offer to import information and, fortunately, WriteLog can export its log information in almost any format you would need. Here's how.
After you have completed your contest and are ready to export your file, go to the WriteLog tool bar under 'File' and then select 'Export.' Your screen will look like this, used from my CQ WW RTTY contest: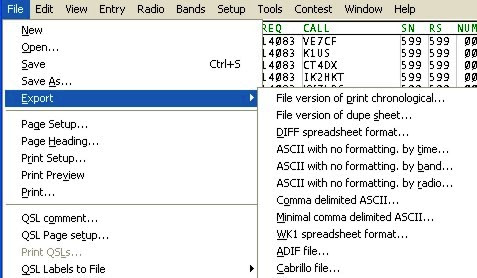 Note that there are many, many ways to export the file depending upon your needs. Fortunately, most logging programs are standardizing on the ADIF file format (including Logbook of The World). So we'll use that as an example.
Selecting the ADIF file format produces the following standard Windows dialog box: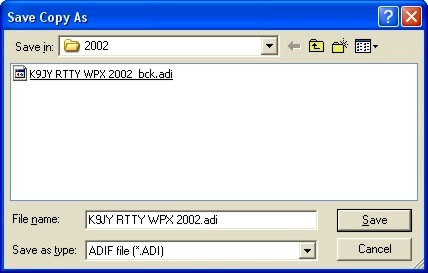 Save the file in your ham radio contest location and change the file extension name from '.wl' to '.adi' as shown. WriteLog saves the file in your file location. You are now ready to import your file into your logging program. Follow the instructions for importing your file into your logging program – but the file you want from WriteLog is at the location you just saved.