To open WriteLog, click on the Start button on the lower left portion of your screen. Then click on "all programs" and navigate to the WriteLog V10 selection. When the various programs for WriteLog open, click on WriteLog V10. Doing so will produce the following opening dialog box: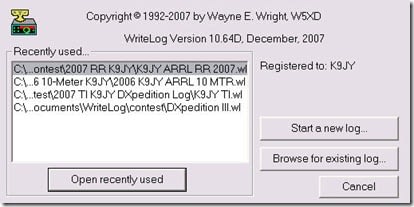 Your Recently Used section will be a blank white box. Click on "Start a new log…" to take you to the WriteLog program.
Several windows will open with the new log and to start yourself off, select one of the ham radio contests from the dialog box as shown below: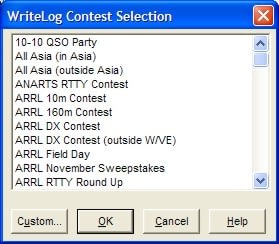 The purpose of this dialog box is to select a ham radio contest module that has the correct exchange and scoring rules in it for the ham radio contest you will be working. For our purposes, it gets you to the program so we can start personalizing the program.
Once you select a contest, you will be presented with the default screens upon initial startup (and, to be fair, it has been so long since I have seen a brand new out-of-the-modem program, I don't even know what the default opening screens are..).
---
What we're going to do is work with the tool bar at the top of the program, go through each pertinent one, and have you select the default options for a single operator. Eventually, we'll save those options so you won't have to enter them again. So, let's get started.
Here's the tool bar at the top of the program:
Click on "File" to save your file. To do so, using standard Windows toolbar processes, go to the upper left corner and click on 'File|Save as..' at which point you will be presented with the Save As screen as shown below:
Using standard Windows processes, find your folder in which you want to save your file, type in the name of the file in the 'File name' field (for this first time effort, I'd select "Test" as the file name) and then click on 'Save.' Most contesters select the 'Contest' subdirectory in \Ham, but you can save your contests wherever you would like on your PC.