This page is updated as of WriteLog Version 12.x.
To begin, open WriteLog and select a contest
To open WriteLog, click on the Search icon on the lower left portion of your Windows task bar. Search for 'WriteLog' and then click on that option. WriteLog also installs a shortcut on your desktop and double clicking on it will also open the program. When the various windows for WriteLog open, the following opening dialog box will open: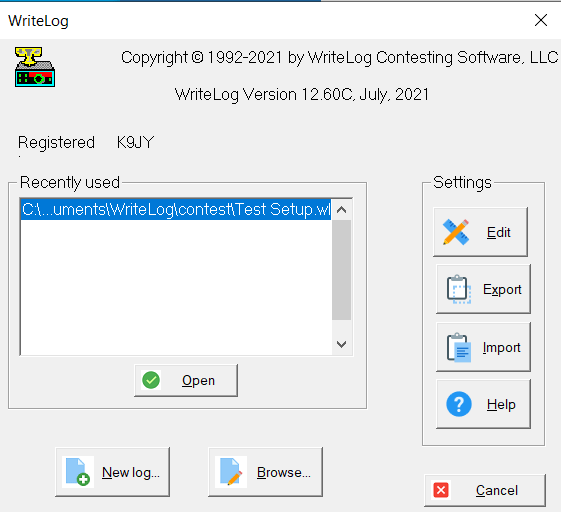 Your Recently Used section will be a blank white box. Click on "New log…" to take you to the WriteLog program.
Several windows will open with the new log and to start yourself off, select one of the ham radio contests from the dialog box as shown below:
The purpose of this dialog box is to select a ham radio contest module that has the correct exchange and scoring rules in it for the ham radio contest you will be working. For our purposes, it gets you to the program so we can start personalizing the program.
Once you select a contest, you will be presented with the default screens upon initial startup. You can have default screens automatically open – say you are a RTTY contester and want the MMTTY screens to open — and that's covered in a different section.
---
What we're going to do is work with the tool bar at the top of the program, go through each pertinent one, and have you select the default options for a single operator. Eventually, we'll save those options so you won't have to enter them again. So, let's get started.
Here's the tool bar at the top of the program:

Click on "File" to save your file. To do so, using standard Windows toolbar processes, go to the upper left corner and click on 'File|Save as..' at which point you will be presented with the Save As screen as shown below: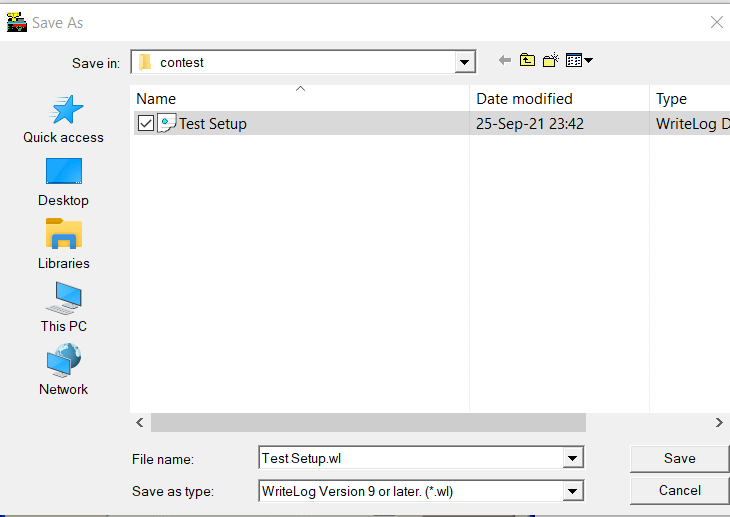 Using standard Windows processes, find your folder in which you want to save your file, type in the name of the file in the 'File name' field (for this first time effort, I'd select "Test" as the file name) and then click on 'Save.' Most contesters select the 'Contest' sub-directory in \Documents\WriteLog, but you can save your contests wherever you would like on your PC.
Updating Country Files
Under Files, there is a selection for updating the Country File. This is the file with all of the country prefixes in it. It sets up WriteLog to be able to identify and count countries in contests. Under Files, select 'Web Update Country Files'. You should receive a Windows warning asking you if you want this to modify your PC. Answer 'yes' and the country files will download.
Upon clicking 'yes' to modify your computer, you will receive the following dialog box once downloaded:
It's not a bad idea to download the file before a DX contest as prefixes are an ever evolving group.
Updating data files
Also under the Files section, you have the opportunity to update the WriteLog data files. Similar to above, when you select 'Web Update Data Files', you will get a Windows warning asking you if it is okay if this modifies your computer. Answering 'yes' will then present you with the following dialog box showing the files are downloaded:
Updating SCP files
The Files section allows you to update the SCP files. Same process: Select File| Web update SCP files. You will be asked if it is okay to allow this to update Windows. Upon answering yes, the files will update and you'll see the following dialog box upon completion: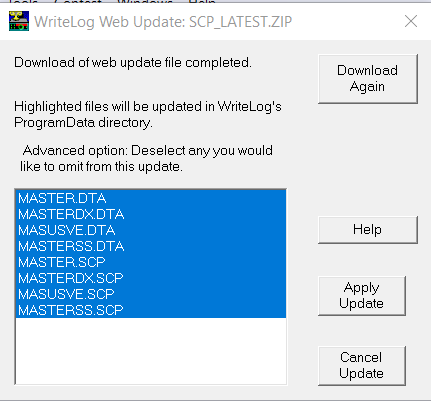 Exporting your Contest File
WriteLog allows your to export your WriteLog contest file into a multitude of formats – a spreadsheet, and ADIF file, TQ8 file and others.
Clicking on File | Export Copy As… will reveal the following dialog box: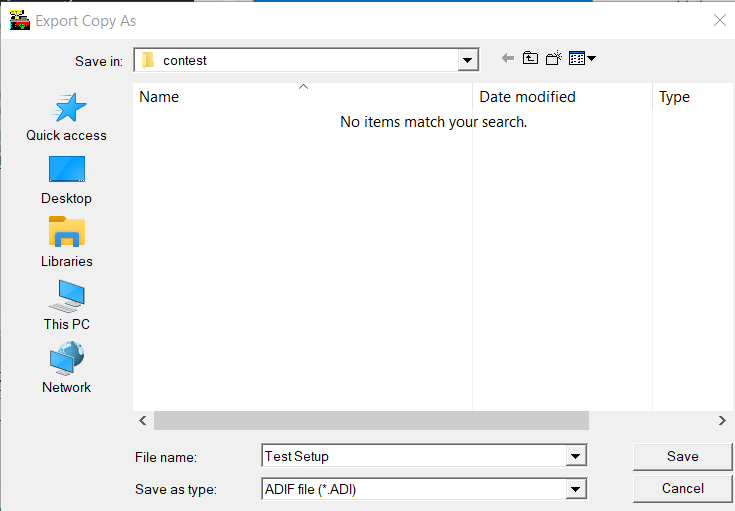 You will note the drop down menu for 'Save as Type'. Clicking on the drop down will yield 12 different options for exporting the file. The exports are intended to match contest or ARRL Log of The World formats. And, of course, files that are useful for the contester in analyzing results and planning for the next contest.
Other options
The other options under the File menu are standard Windows functions – setting up your printer, finding a call sign, setting up labels for QSL's.