Note: this section is updated for WriteLog 12.x
The key specialized ham radio option in the Entry list is "Change Operators" in Log. Single Ops in the contest will not need to update this option.
This option in WriteLog is used for Multi-Operator contesting environments and serves two very useful purposes:
First, by establishing the Operator field in the log, the station owner or contest manager for the multi-operator contest will be able to see individual UBN's off the UBN reports generated by the ham radio contest sponsor. This is highly useful information for both the individual operator as well as the station manager.
Second, in an SSB ham radio contest using the Sound Board as the contest Digital Voice Keyer, each individual operator can record their own message files – in their own personal order preference associated with the function keys – and when the Operator logs on to operate, WriteLog will automatically switch the wave files to that operator.
So if K9JY is an operator and records "73 K9JY" on the F3 function key and WE9V records "QSL Your 59 Wisconsin" on the F3 function key, when WE9V logs on as the operator he will get his voice and the exchange message sent when he presses F3.
In a highly simplified screen, select the Operator Field here: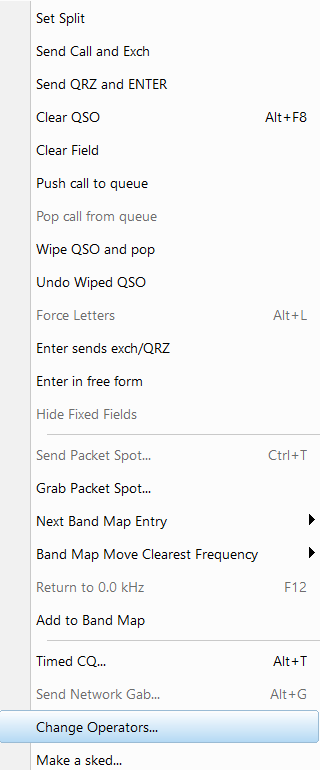 When you click on this field and no operators have been entered, you need to add the operators.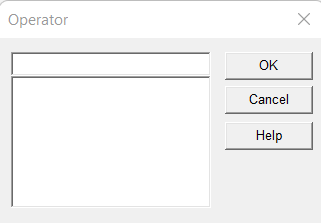 Put the callsign of each operator and click OK.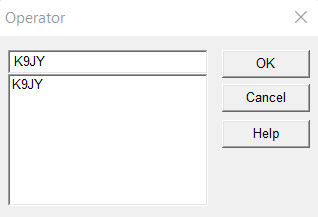 By entering the call in this dialog box, WriteLog will make a sub-directory for the operator to be available for WAV files.
NOTE: You must first tell WriteLog where the .wav files are located so that the operator entries will be saved. This is done in 'Setup.'
When it's time to actually change operators during the ham radio contest, the operator follows this same procedure and will just be presented the Operator dialog box shown above. Click on the correct call and click on OK and the call will now be recorded in the log.
You can delete Operators from this list by going to your WriteLog default WAV file location found in the 'Wave File Locate' button in the Ports dialog window and deleting the operator's folder from the directory.