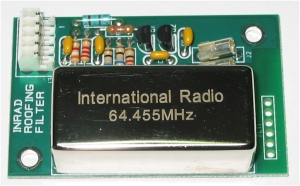 In this series on Club Program ideas, I'm providing possible programs for clubs to use in their meetings. You can find a full explanation of the approach in Club Programs – The Series.
Today's program idea: Radio filters.
One of the most effective ways to increase your ability to hear is the use of filters on the radio.
Filters vary by radio as well as how they are implemented. Filters that are great for CW are crappy for SSB. RTTY offers a challenge for filters, but great ones shine.
Then there are mechanical filters as compared to software (DSP) filtering. Which is better? How can you tell?
A program on making the case for filters in your receiver could cover these subjects:
The need for filters in your radio
OEM or specialty filters?
Mechanical compared with DSP filtering — or both?
Roofing filters
Upgrading a receiver with correct filtering can help turn average to excellent.
Scot, K9JY
Photo Credit: International Radio Filters