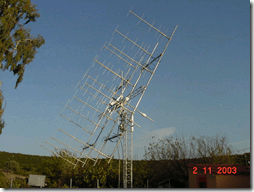 In this series on Club Program ideas, I'm providing possible programs for clubs to use in their meetings. You can find a full explanation of the approach in Club Programs – The Series.
Today's program idea: Moonbounce.
Bouncing signals off of the moon and listening to them come back is a fascinating entry into Doppler shifts, weak signals, long distances, and knowing when the moon is available at your QTH.
Program ideas;
Why the moon?
How it works
Building Antennas — and rotors
Software (WSJT)
Frequencies to listen
Hams were working the moon long before astronauts landed there. It's time to brush up on how all that was done.
Scot, K9JY
Photo Credit: SV1BTR's antenna on Skynet